A contribution to a calendar by Union Square Not for Sale

The organization Union Square Not For Sale was launched in response to a proposal to renovate Union Square Park put forward by Union Square Partnership, a local Business Improvement District (BID)/Development Corp. The renovation included plans for a private, for-profit restaurant in the historic Northside Pavilion, which was originally built as a parade stand and later used as a year-round recreational shelter for women and children. The pavilion stands at the center of many of this country's most important social movements: abolition, suffragette, civil rights and especially labor. The pavilion sits in the heart of Union Square Park, an area that boasts the highest density of restaurants and lowest density of public space in the entire city. There are over 200 eating establishments within two blocks of the contested area.

As part of an effort to propose positive alternatives to privatizing the Northside Pavilion, Union Square Not For Sale produced a calendar for 2009 and asked twelve artist and designers to propose a possible use for the park and pavilion that would keep it open to the public. Each month in the calendar presents a new proposal. This one suggests turning the pavilion into a free cinema that accommodates web-based digital media.

To minimise costs the calendar was printed only in black and white, limiting the proposal images to a monochrome palate.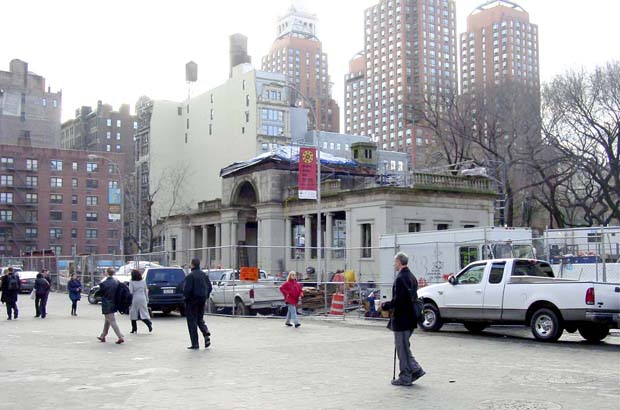 Union Square Free Cinema

New York's rise to being the capital of art and culture that it is today came as media became more accessible and democratic and the field of artistic production expanded. The city was able to leverage its bigness, openness and diversity to become a place of intellectual exchange and cultural foment. Institutions such as the Anthology Film Archive provided space and the facilities needed to screen and preserve old media such as film and became physical centers of artistic discourse. Today, with cell-phone videos uploadable to YouTube, media has become even more accessible and has been liberated from the need to be tied to place. Whether this will facilitate a proliferation of creativity and an amplification of discourse or cause the dissolution of new works into the background noise and chatter of delocalized information flows, however, depends entirely on the creation of structures for curation and reception. While these need not be physical either, the pavilion in Union Square offers a perfect opportunity to establish a free cinema where video work can be brought into the public sphere and a public forum for discourse and experimentation created. Unlike film, which must be brought to the cinema, projected and stored in a physical archive, video can be distributed and curated remotely and stored digitally. New projects could be produced immediately on site or sent from anywhere in the world. The pavilion could become at once cinema, stage and studio. In this way it would not only remain accessible to the public in Union Square but become hyper-public, opening its self and the park to the world and to a myriad of imaginable publics.