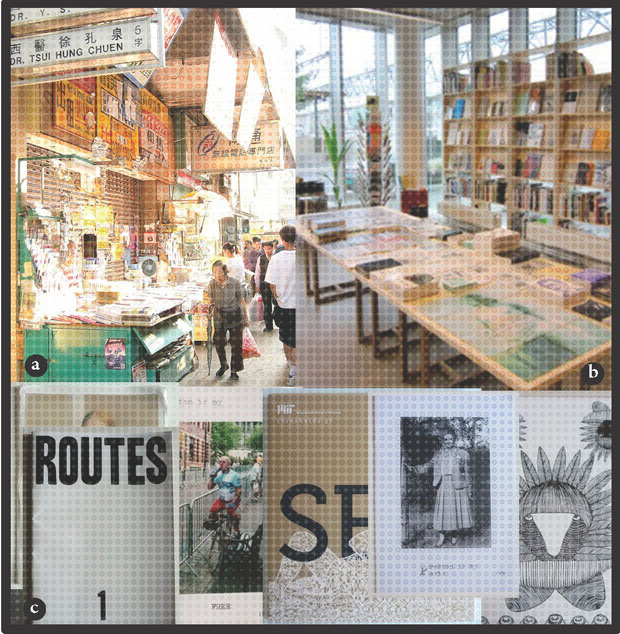 a. Newspaper Stand, Hong Kong

b. Torpedo Books and Info Shop, Oslo, Norway

c. Independent, small run architecture 'zines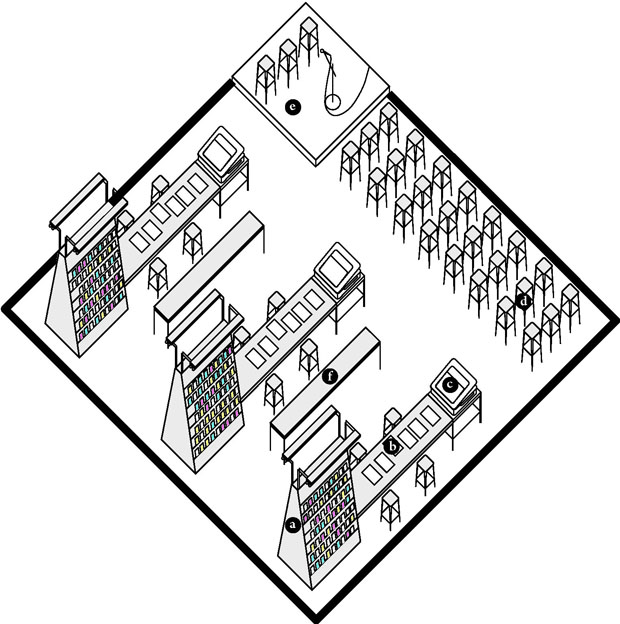 a. Publication stands stocked with international and local, pop and underground architectural periodicals and 'zines. The stands will be constructed of sheet metal in reference to Hong Kong's street newspaper stands. Fluorescent lights will be mounted on top.

b. Stools and a long work table made of the same green steel as the shelves provide work space for the public to chop their periodicals. Glue sticks, scissors, knives, tape and rulers will be provided.

c. Xerox machine
d. Seating area for symposium audience.

e. A small green plywood stage, microphone and small public address system for recording and amplification to host up to three speakers for a small symposium.

f. A bay containing paper cutters, spiral binding machine.


In collaboration with Adam Bobbette
an unrealized project for the 2011 Hong Kong/Shenzhen Biennial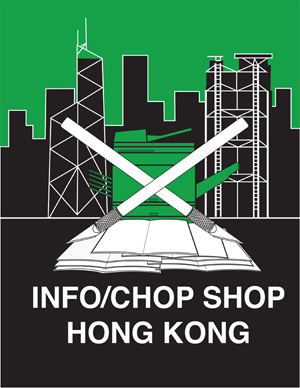 Hong Kong and China in general seems to have an insatiable appetite for Architecture and design ideas, especially from the west. Much of this flows into a well developed tradition of imitation and adaptation of foreign concepts and practices whether they be technological, cultural or ideological. Architecture thus far has seen much importation and imitation (with varying degrees of fidelity) take place in China but has yet to develop a truly local, critical alternative design culture. The Architecture Info Chop/Shop will import another western form — that of the "info shop" used by radical organizations to disseminate information — and a practice, the cut-paste-and-photocopy techniques of fanzine production and apply them to constructing a model that could inform the development of radical design discourses in Hong Kong and China.

The Info Chop/Shop will assemble a collection of print media having to do with contemporary Architecture, culture, politics, art and design. This will be made available for the use of the interested public in addition to worktables, photocopiers and a simple binding machine. Layout sheets with a grid and spaces to add titles and page numbers will be distributed and exhibition visitors will be invited to cut up and reassemble the printed matter into their own architecture books and magazines. Copies of the magazines produced will be kept to assemble into a publication at the end of the exhibition and returned to the public for other people to cut up and use.

The material provided would come both from what is currently available in Hong Kong and from a carefully curated group of magazine editors and producers who are making publications that represent either the avant garde of radical architectural and theoretical discourse, alternative design or architecture pop-culture. Each producer would be invited to send a single, large DHL box of either their own publications or printed material of their own choice to be mixed in with the local print media and included in the Info Chop/Shop. Ideally, as many of these producers as could be brought to Hong Kong would then be invited to come speak in a series of small symposia that would take place in the Info Chop/Shop. These would be documented and possibly also sampled and remixed with the help of MC Yan, one of Hong Kong's leading hip hop artists.

The Info Chop/Shop will not attempt to define or, like Marco Polo, discover an authentic or original local underground design scene. Instead it will encourage the culture of imitation and appropriation but attempt to push it beyond the production of simple knock-of copies into radical piracy in which texts, images and concepts are hijacked and, like stolen cars, chopped up and stripped of whatever valuable components can be reconfigured and turned to new ends.